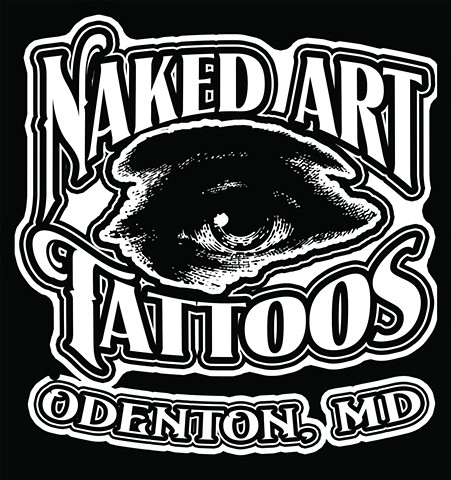 Chris Lowe opened Naked Art Tattoos in 2005 as an art studio with the sole focus is creating the best art possible and not selling merchandise or bolstering our image. The artists at Naked Art are all amazing and all different, each has his own identity and not the caricature version you see on TV. Although Naked Art is a custom studio it also houses a larger collection of images to look through to help you out. With over 40 years of Combined experience in all styles of tattooing. All of our Artists are extremely talented and can't wait to work with you on creating a one of a kind piece of artwork that will stand the test of time. Our focus is on giving you a work of art in a safe, friendly, sterile, environment. We specialize in custom work but we have many images for you to choose from, as well as the internet for all your reference purposes, or you can bring in your own image and let us help you turn to a great tattoo. Naked Art is not here to up sell you with shirts, prints, and Jewelry. The shop been designed from the ground up to be a true tattoo shop. From the porcelain floors to the stone pillars it exudes warmth and comfort as well as cleanliness to provide our clients with an experience not possible in other shops. We are an artist collective who have come together to work with our clients to create a one of a kind bespoke pieces of art. We pride ourselves in the fact that we create tattoos for your ego not ours.
Our artists can often be found tattooing not only at various conventions throughout the United States but also in places such as South Africa, Australia, Canada, the United Kingdom, Beijing, and Miki Vialetto's prestigious London Tattoo Convention.
Naked Art is conveniently located at 1590 Annapolis Rd (175), across the street from Fort Meade and NSA, just minutes away from Maryland Live casino, and midway between DC and Baltimore.
WE OFFER A 20% MILITARY DISCOUNT to any active duty military personnel to show our gratitude for your service. Chris Lowe Owner and artist at Naked Art Tattoos was in the Navy as was his wife and most of his family and feels it is important to recognize those who serve. In 2012 Chris started "Still Standing which was a charity art show bringing together some of the most talented artist from all over the world to benefit The Wounded Warrior Project.
The shop minimum is $80 and the hourly rate is $180 an hour.
We can not give quotes over the phone but if you come in we would be more than happy to help you out.
Chris Lowe Artist/Owner
Eddie MacIntosh Artist
Ronie Blaze Artist
Maddie Artist
Feel Free to e-mail us with any questions or comments at nakedarttattoos@gmail.com
As always,Naked Art Tattoos continues to respectfully welcome patrons from all walks of life. We continue to stand firmly as allies against all forms of bigotry.
1590 Annapolis Road
Odenton, MD 21113
Phone: 410-672-2059
Open 7 days a week
11- 7pm
www.nakedarttattoos.com
www.marylandtattoo.com
www.fortmeadetattoo.com
www.fortmeadetattoos.com
www.atalier1870.com